Free Market Road Show 2019 – European Values for Georgia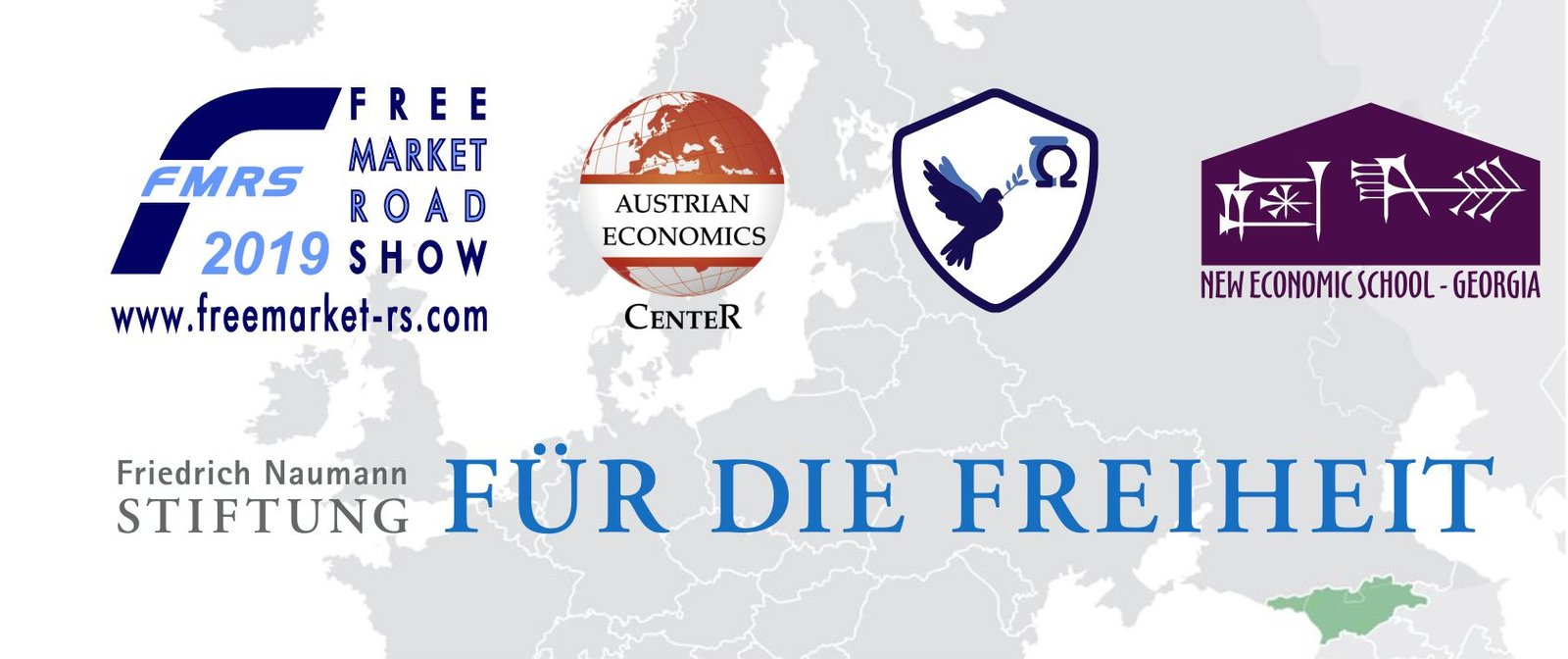 Austrian Economics Center and New Economic School Georgia
In partnership with Sulkhan-Saba Orbeliani University and Friedrich Naumann Foundation for Freedom
Present
Free Market Road Show, 2019
REINVENTING FREEDOM 30 YEARS AFTER THE WALL
Tbilisi, April 13th, Saturday, 2019
Venue: Sulkhan Saba Orbeliani University, Tbilisi, Georgia
AGENDA:
11:00AM Registration and Coffee
11:45AM Opening:
Gia Jandieri, NESG; Federico Fernandez, AEC; Arad Benkoe, Ambassador of the Republic of Austria in Georgia(TBC); Peter Bochmann, FNF, Dimitri Gegenava - Sulkhan Saba Orbeliani University (TBC)
12:00 PM Panel One: European Values – Which Ones?
Moderator: (Tamta Mikaberidze, Dean of business and tourism faculty, SSU)
Can Liberty Make a Comeback in Europe? - Federico Fernandez
How the governments (and EU) were breaching the rule of law to save banks and Euro-Vision, Thomas Bachheimer
Defending a Man against the Majority – Gia Jandieri, TBC
UK – BREXIT or not BREXIT? Teather Richard
Q&A
1:30 PM Lunch
2:30 PM Panel Two: "Hidden" Burden of Regulation
Moderator: (TBC)
Welfare Parasitism – Christopher Lingle
Armenia after the Revolution – Programs and Promises – Vahagn Khachatryan
What Has Government Done to Our Mone - Kai Weiss;
Private Alternatives to Welfare: GEORGIAN SPEAKER (TBC)
Q&A
4:00PM Closing: Paata Sheshelidze, Federico Fernandez;
Speakers:
Christopher Lingle, US
Dr. Lingle has been employed at universities in Africa, Asia, Europe, Latin America and USA. Dr. LINGLE's research interests are in the areas of Political Economy and International Economics with a focus on emerging market economies and public policy reform in East and Central Europe, East Asia, Latin America, and Southern Africa. His work has appeared as chapters in books, the international media, and scholarly journals;
Vahagn Khachaturyan, AM
Former Mayor of Yerevan;
Kai Weiss, DE
Research and Outreach Coordinator at the Austrian Economics Center and a board member of the Hayek Institute. His main research interests are European and EU politics, philosophy, and technology.
Federico Fernandez, AR
Federico N. Fernández is President of Fundación Internacional Bases (Rosario, Argentina) and a Senior Fellow with the Austrian Economics Center (Vienna, Austria). He has been actively engaged in work within the Liberty movement for more than a decade.
Richard Teather, UK;
The leading British academic specialising in offshore tax jurisdictions. As well as academic work he also acts as consultant to governmental and industry bodies. His writings have been published in three continents, translated into over 10 foreign languages.
Thomas Bachheimer, AT
Thomas Bachheimer has been trading at stock exchanges in Dublin, Munich and Vienna very successfully with a special focus on government bonds and commodity derivatives.
Paata Sheshelidze, GE
Paata Sheshelidze is an economist, graduated Tbilisi State University in 1992 with Master Degree. He use to work as leading specialist at Parliament of Georgia (1993-1996, Ministry of Finance (1996-1999), Road Fund of Georgia (1999-2000). Mr. Sheshelidze is co-founder (Since August, 2001) and president of the New Economic School – Georgia
Gia Jandieri, GE
In 2001 Mr. Jandieri co-founded and since that time has been the Vice-president of New Economic School – Georgia. He worked at the State Audit Office, Central Election Commission, the Parliament of Georgia and the Anti-Corruption Agency.
Akaki Tsomaia, GE
Professor of Economics at University of Georgia, Caucasus University and Sulkhan-Saba Orbeliani University. worked in private sector, Alumni of US Fulbright Program.